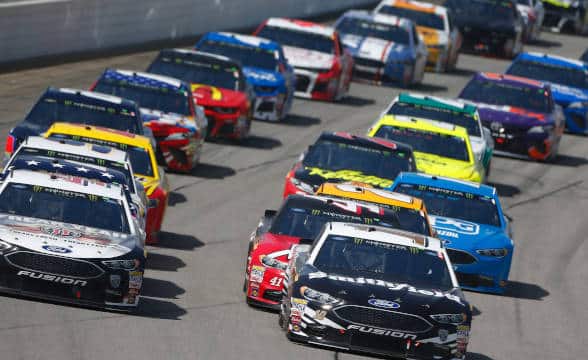 In Summary:

NASCAR DuraMAX Drydene 400 is on the program this SundayAlex Bowman is the defending championKyle Larson is the betting favorite to win the race

Image Source: Shutterstock.com (Photo by Grindstone Media Group)
NASCAR is back this weekend, with a DuraMAX Drydene 400 scheduled for Sunday, May 1, 2022. The Dover Motor Speedway in Delaware is where the race will take place, which is one of the favorite racetracks of guys from Hendrick Motorsports. Why? Because this team went 1-2-3-4 last year.
Alex Bowman won the race last year and is one of the possible candidates to win the race in 2022 as well. Still, his teammate Kyle Larson is seen as the #1 favorite by online sportsbooks.
NASCAR DuraMAX Drydene 400 Odds
DriverOddsKyle Larson+500William Byron+850Chase Elliott+850Martin Truex Jr+900Alex Bowman+1100Kyle Busch+1100Ryan Blaney+1200Denny Hamlin+1200Joey Logano+1200Ross Chastain+1200
When, Where, and How to Watch?
Date: Sunday, May 1Time: 3:00 PM ETPlace: Dover Motor Speedway in DelawareHow to Watch: FOX
Kyle Larson Leading the Way
Hendrick Motorsports is one of the most successful teams in this race, having won the DuraMAX Drydene 400 ten times. Most of those races were won by Jimmie Johnson (six times), while Hendrick Motorsports' best driver in 2022, Kyle Larson, is still without a triumph in this race. He did come close to winning it last season when he finished second.
The 2021 NASCAR champion has been great since the start of the new season. He currently has just one win to his name in 2022 but is favored to add another one this weekend. The reason why Larson's odds aren't even shorter than +500 is that he's coming off not too great performances – we saw him finish fourth in the previous two races.
Other Hendrick Motorsports Drivers?
Larson's teammate from Hendrick Motorsports Chase Elliott needs to be thought of as one of the potential candidates to win the race on May 1. Although he hasn't won a single race this season, he did finish in the top 10 most times in the last couple of months.
Another Hendrick Motorsports driver that needs to be taken seriously is Alex Bowman, the winner of the 2021 race. He's fifth in overall rankings, with one race win so far (Pennzoil 400).
NASCAR DuraMAX Drydene 400 Predictions
Kyle Larson is the betting favorite for a reason. He's the reigning NASCAR champion who needs to improve his record in 2022 in order to stay in the race for another championship.
Pick: Kyle Larson