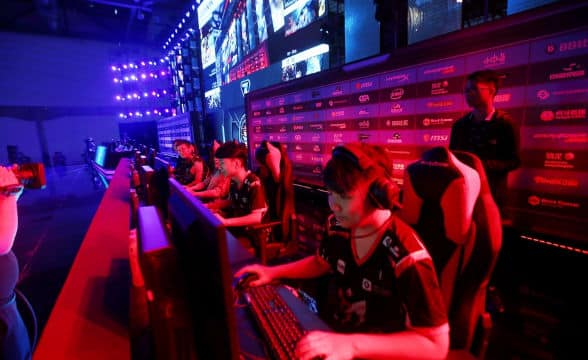 In Summary:
Real Luck Group's esports wagering subsidiary, Luckbox, has hired Daniel Sanders as marketing headThe Tencent and Red Bull former employee will leverage his deep understanding of the esports segment to help bolster player-acquisition effortsReal Luck Group CEO is confident in the further success of the esports betting platform
Image Source: Depositphotos.com (Photo by
Real Luck Group remains firmly committed to its esports forays with the company confirming the appointment of Daniel Sanders to lead the Luckbox esports bookmaker as its new marketing director. Sanders comes from Tencent Games, a prominent publisher of competitive video games, and as such, he adds invaluable insight into what makes esports fans tick.
Well-Seasoned Veteran Who Will Drive Marketing Efforts
He served with Tencent in the position of senior global marketing lead, providing him with the necessary know-how to steer brand marketing strategies with efficiency. He also worked as head of gaming and esports with Red Bull between 2016 and 2022. Commenting on his appointment, Real Luck Group CEO Thomas Rosander said:
This is a crucial position that completes the building of our core leadership team. This role requires a rare skill set that we have been working diligently to recruit for several months and we are very pleased to attract an individual of Daniel's caliber to help accelerate our player growth strategy.
Rosander had nothing but superlative about the new hire, whose proven marketing track record will have a lasting impact on Luckbox's long-term strategy. Luckbox is already a multi-purpose brand, featuring esports, gaming, and gambling, and as such, it needs a unique and deeper understanding of what makes good and well-targeted marketing.
Player-Acquisition Remains the Main Target
Rosander spoke confident about Sanders' ability to drive growth and adds to an already established team that is focused on scaling revenues. Sanders will remain firmly aligned with the broader Luckbox strategy which is to add more players.
This follows on 2021's commitment which was mostly focused on the company preparing to expand in new verticals and develop the necessary technological framework for that. With those milestones now achieved, Luckbox will double down on adding more consumers to its platform. Rosander expressed confidence that Luckbox is in a position to minimize its own acquisition costs, giving it a significant edge in the sector.