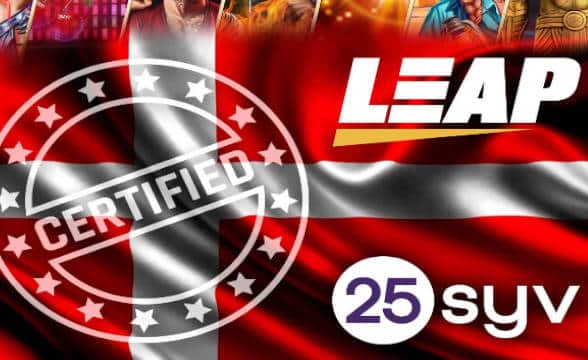 In Summary:
LEAP Gaming secures entry into Dutch regulated marketThe studio's products are available with two casinosLEAP Gaming previously launched in the UK and Sweden
Image Source: LEAP Gaming
LEAP has received an official certification to enter the Danish market. As a result, the iGaming developer and supplier of products will be able to position its outstanding portfolio of select titles with popular brands in Denmark.
Denmark to See a Host of LEAP Gaming Titles
Both partner casinos are well-picked as they have strong exposure to the Danish market and will help LEAP to immediately benefit from its newly-acquired license. More games will be coming down the line, making it easier to enjoy even fresher experiences as companies go along.
SYV25 product owner Lasse Larsen hailed the addition of LEAP games, calling it a "perfect partner, and adding:
Their advanced 3D graphics and unique game features, combined with highly intuitive UI, provide an excellent immersive and engaging gaming experience, that we are proud to offer to our clients exclusively on our online platform.
SYV25 product owner Lasse Larsen
LEAP commercial director Isabella Avidar similarly welcomed the partnership and said that the company was thrilled to be part of the Danish market. Avidar expressed confidence that the LEAP Gaming products would prove a hit with local players, owing to their strong omni-channel experience, advanced graphics and gameplay.
More Successful Partnerships in Europe
LEAP has been in the news lately as the company has been delivering on successful partnerships apart from new market entries. In May, LEAP sealed another milestone achievement by securing an entry into the regulated iGaming market in the United Kingdom, arguably one of the world's strictest and most lucrative.
In March this year, the supplier was cleared for an entry in the Swedish gaming market as well, with the company confident it can follow strict market conditions to the T.