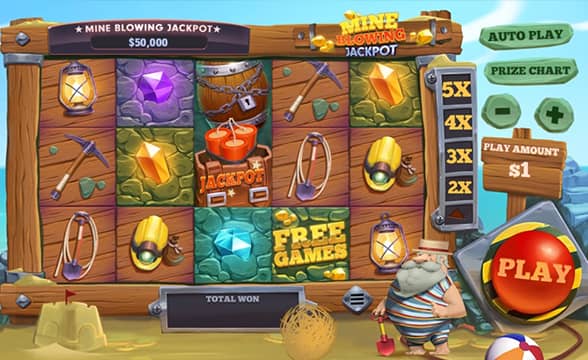 In Summary:
IWG launches its first Mine Blowing Jackpot evergreen gameThe title will be updated regularly to reflect seasonal festivitiesPennsylvania Lottery is happy to improve its iLottery portfolio
Image source: IWG
Maintaining its momentum in the instant lottery game segment, the Pennsylvania Lottery has teamed up with IWG, a provider of advanced iGaming and lottery products. This partnership results in the launch of Mine Blowing Jackpot, an eInstant game that is expected to be a hit with local players.
First Evergreen Product Hits Pennsylvania Lottery
Instant Win Gaming is happy to extend this new product to Pennsylvanian players who will benefit from the game's unique features, such as automatic updates that will reflect seasonal and holiday celebrations. This is the so-called evergreen genre introduced by IWG and it seeks to establish a game that is being actualized and updated regularly so that players have something to look forward to when looking to play.
The underpinning InstantPulse mechanic makes these update an easy and straightforward process that does not impact player gameplay but ensures that consumers are enjoying the latest releases. This means that Halloween, New Year and St Patrick's Day's celebrations will all be quite interesting.
IWG CEO Rhydian Fisher welcomed the opportunity and thanked the Pennsylvania Lottery for the opportunity to launch the game on its shopping window:
We're incredibly proud of our long-standing partnership with the Pennsylvania Lottery. Mine Blowing Jackpot is a great example of blending eInstant best practices into a seasonal game that is designed to engage players throughout the entire year. We're very excited for this launch and cannot wait to see how Pennsylvania players respond to this evergreen eInstant.
Rhydian Fisher, CEO, IWG
Opportunity Welcomed by Lottery and IWG
The new release was given a hearty welcome by Pennsylvania Lottery's own executive director, Drew Svitko. The executive said that IWG and the Lottery have been working together since 2018 to advance the iLottery segment and drive additional engagement across the board.
As such, the lottery is confident in IWG's ability to deliver on a product that is built around innovation and player-focused gameplay.