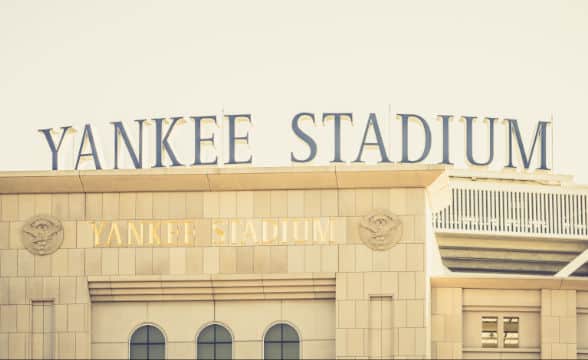 In Summary:

FanDuel and New York Yankees renew their existing partnershipThe tie-up pertains to exclusive hospitality experiences and advertising rightsBoth FanDuel and New York Yankees executives are happy with the development

Image Source: Shutterstock.com (Photo by Pabkov)
FanDuel Group, a Flutter Entertainment-owned sports betting company, has extended its existing partnership with the New York Yankees, a professional baseball team. The latest deal between a sports franchise and an MLB franchise is well-timed to reflect on the beginning of the baseball season in the United States.
FanDuel is hoping that through this extension it will remain its prominent status with the Yankees' fans and help itself secure a bigger share of the incoming baseball betting bonanza in New York and beyond. FanDuel branding will be available on-site at the Yankees home stadium and featured across the organization's social media channels as it has been so far.
The advertisement rights will extend to television broadcasts as well. FanDuel will have access to a variety of New York Yankees experiences, including premium hospitality services which will give sports fans a 360-degree experience and incentivize them to engage more with their favorite brand through the FanDuel product offer.
FanDuel Group CMO Mike Raffensperger welcomed this renewed opportunity for his company and what it meant for both the baseball team and the sportsbook. He argued that the New York Yankees are one of the most prominent sports brands worldwide and they remain a fixture in their hometown of New York. He added:
"One of our company values is to be absurdly fan-focused and there is no fanbase more passionate about their team than Yankees fans which makes this a natural fit."
FanDuel Group CMO Mike Raffensperger
The Yankees were equally pleased to have this opportunity and extend their ongoing collaboration with FanDuel.
Successful Partnership Calls for More
New York Yankees SVP Michael J. Tuisani argued that the team was excited to be extending their partnership with FanDuel, and pointed out that the relationship between the companies over the past two years has been most successful:
"We hope that FanDuel's Yankee Stadium presence and customer engagement will continue to strengthen its brand as a sports betting operator within the tri-state area."
New York Yankees SVP Michael J. Tuisani
 FanDuel is said to hold close to 40% of the total sports betting market in New York, which puts the company in a unique position to continue expanding its footprint in the state.