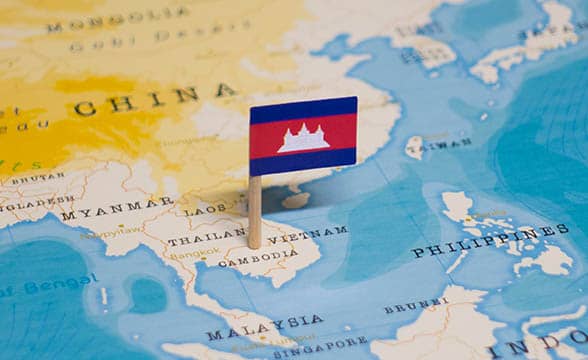 In Summary:
Cambodia's casinos remain mostly shuttered with only 20 properties open on June 30The collected tax revenue is only 8% of the amount mandated by lawCommercial casinos are falling behind on license renewals
Image source: Shutterstock (photo by hyotographics)
The Commercial Gambling Committee of Cambodia (CGCC) has provided a look into the operational results of the country's casinos over the six months ending on June 30, 2022. The regulator said that the casino's cumulative output fell utterly short of hoped-for results and came to just 8% of the amount required by law. Casino closures had impacted most properties across Cambodia, making for a grim outlook.
Cambodia's Casinos Remain Mostly Shuttered
The report also said that only 10% of the country's casinos were operational as of June 30. This means that out of 200 properties, only 20 were available. Meanwhile, the properties that have sought to reapply for a license have faced red tape, and only 13 licenses out of 129 applicants have been approved. The Financial Industry Ministry of Cambodia and director Ros Phearun issued a statement:
We've seen that local tourists are taking trips, but international tourism remains limited. The commercial gambling sector depends on this, especially in border areas with Thailand and Vietnam that have only just recently opened. Commercial gambling operations have just resumed, leading to slow revenue collection.
Financial Industry Ministry of Cambodia and director Ros Phearun
Casinos need to renew their licenses annually, which has created an extensive backlog of applications and forced understaffed government agencies to slog through the piling reams of paper at a sluggish pace. The changes were enacted back in November 2020 through the Law on the Management of Integrated Resorts and Commercial Gambling.
Restoring the Casino Industry an Augean Undertaking
The original design was to ensure that there is more accountability and transparency in the sector, but not much of this has come about. The law also stated that the casinos should pay roughly $42.7 million in tax revenue annually, but this has clearly not been the case. A mix of the pandemic, missing tourists, overbearing laws, and mistrust of the country's laws.