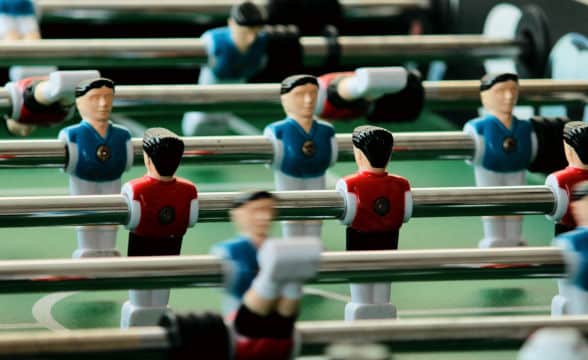 In Summary:

Bet365 has teamed up with Scout Gaming Group to get access to fantasy sportsScout Gaming is an established provider of fantasy sports, lines, and fixtures Both companies welcomed the opportunity to be expanding their DFS operations

Image Source: Unsplash.com (Photo by Alex Rosario)
Bet365 is showing a bigger appetite for fantasy sports and it will be able to enjoy just that through a partnership with Scout Gaming Group, a company that focuses on the delivery of fantasy sports and overall betting products tied to these contests.
Bet365 and Scout Gaming Double Down on DFS
Scout has teamed up with a Bet365 subsidiary and will seek to expand the company's reach into the DFS market while providing consumers with added value for such contests. The supplier of fantasy lines and fixtures is already licensed in the United Kingdom and Malta, which gives it a reach in some of the busiest markets out there.
The partnership with Bet365 is expected to positively impact Scout's bottom line in the second half of 2022. The company has seen a steady increase in overall results with its results for last year reaching $6 million in revenue (SEK 56.6 million), up 21% year-over-year.
Commenting on this partnership Scout Gaming Group CEO Andreas Ternström praised bet365 for its leadership position in the world of sports. Ternström said that the company was excited to be joining the operator's family of suppliers and supporting its fantasy sports portfolio.
"This deal strengthens the view of our product portfolio with sports betting operators," the executive added. Scout Gaming Group has a comprehensive geographical footprint with offices in multiple countries, including Norway and Ukraine.
Scout Gaming Continues to Build up Global Presence
Scout Gaming has been rapidly expanding its reach and adding further amenities to its platform to guarantee a flawless experience. The company chose Nuvei as a payment partner for the FanTeam platform in the United States in March.
FanTeam was launched several months prior to that in December 2021. Overall, Scout Gaming has remained an important fixture in the daily fantasy sports landscape out there. The company has further expanded in Brazil through a partnership with Betano.