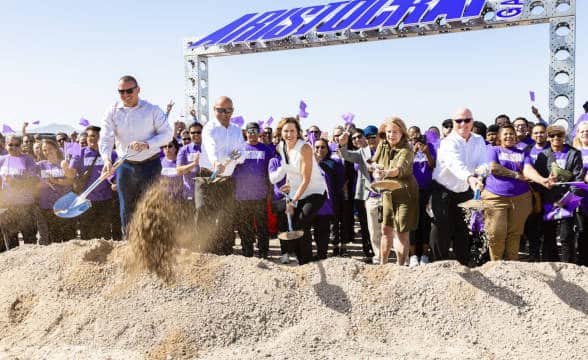 In Summary:

Aristocrat introduces its Las Vegas Integration Center to boost production capacityThe new project is the company's most ambitious in the last five yearsAristocrat is expected to rapidly up its acquisition game over the coming months

Image Source: Aristocrat.com (Photo by Aristocrat)
All is well with Aristocrat Technologies' bid to continue growing its footprint in the United States. But to deliver on its ambitious goals, the company is looking to add more boots on the ground with the first dig for its new manufacturing facility in Henderson, Nevada taking place on Friday. The new production unit will focus on supplying clients from all over the world, and not just the United States or North America.
Expanding Aristocrat's Products Globally
Logistics is key for scaling the company's presence in this region, nevertheless. According to Aristocrat vice president and general manager Mary Lynn Palenik, this new project is the most ambitious one undertaken by the company over the past five years. The new facility will sprawl on 265,000 square feet in what Palenik described as an unprecedented assembly line that will impress the entire Southern Nevadan community.
Company president of Americas Tommy O'Brien said that the facility, aptly dubbed the Las Vegas Integration Center, will launch in Q3 2023 and have good connectivity with important infrastructure, including the Harry Reid International Airport. Aristocrat's new production capabilities are bound to send its offer up as the company already serves 300 jurisdictions and 90 countries.
Scaling the production of Class III and Class II machines will enable it to continue pursuing partnerships with both commercial and tribal operators, as well as government lotteries and gambling establishments.  Aristocrat has been rapidly scaling up its offer to ensure that it has the production capabilities to remain at the forefront of developing some of the world's finest gambling machines.
Gambling Industry Behemoth with an Eye for Acquisitions
Aristocrat is in a particularly good position to continue developing and scaling up its business. The company is even said to tap into the $2.84 billion that it never used to buy Playtech in order to further expand its footprint. Fitch Ratings argues that the company may now leverage this war chest and use it to deliver on a rapid merger & acquisition bonanza.
Aristocrat is in all likelihood going to want to diversify. Playtech is a company that focuses on delivering igaming software and as such, it made a strong investment in Aristocrat's portfolio which has been rather single-purposefully focused on the retail segment. Adding more digital options to the portfolio would provide the company with better resilience in the face of sudden shocks such as a global pandemic or even raising geopolitical tensions.