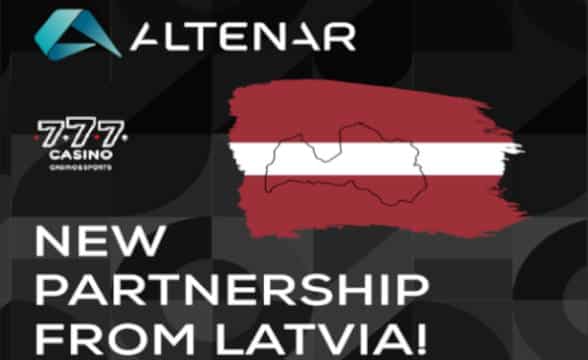 In Summary:
Altenar will launch its sportsbook platform on Casino 777 Casino 777 will have the opportunity to benefit from numerous toolsAltenar is gathering momentum in the European market
Image Source: Altenar
Altenar will launch its premium sportsbook, platform and content with Casino 777 in the Latvian market. The new partnership focuses on the sportsbook end of the spectrum with Altenar making another decisive stride in the European market. The sportsbook's focus will pivot on a range of capabilities brought by the Altenar platform that will now be integrated with Casino 777 and help guide its sports wagering offer.
Leading to More Opportunities for Casino 777
These features and options include esports, data, and retail solutions. Altenar's platform UI is an EGR award-winning solution as well, making this integration particularly useful to Casino 777. Altenar further has experience in security and risk management systems and it has a trusted support team to ensure that every detail of the partnership will go smoothly and that issues will be troubleshot on the spot.
Altenar is using its Casino 777 tie-up as a springboard to achieve further recognition, but the company is bringing its next-gen solutions to jurisdictions beyond Europe, too. While achieving success in Spain and Belgium, Altenar has also been able to pivot towards the Latin American market and achieve recognition there.
The company's commercial metrics have gone significantly up. The betting platform has reported a 150% increase in total bets and player count in 2021 alone.
Altenar's Platform Strength Is Recognized
Altenar welcomed this opportunity to be entering an agreement with Casino 777 and bring its product to a new strategically viable region:
We are thrilled to enter into this latest collaboration with Casino 777. Our premium sportsbook software will give our new partners a more detailed focus on the Latvian market, as well as the opportunity to deepen their understanding of their customers.
Altenar
Altenar doubled down on the strength of its platform in the press release and argued that it's of continuing and growing importance to the European market. Altenar is already licensed in 13 global markets with licenses from Malta Gaming Authority and UK Gambling Commission, positioning the company as one of the most trustworthy options.